A MOOT COURT SESSION
August 24 @ 8:30 am

-

1:30 pm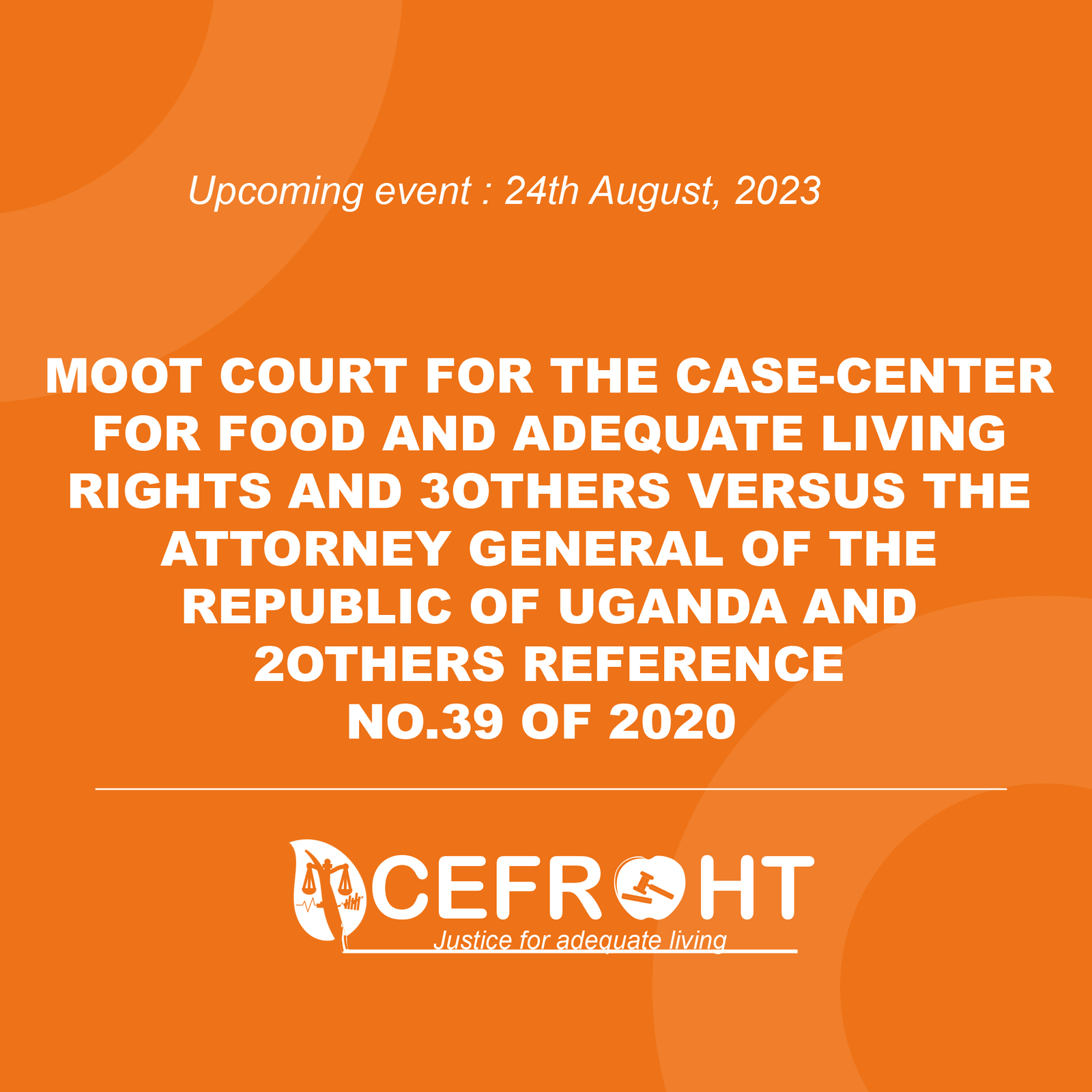 Background
In 2020, Center for Food and Adequate Living Rights-CEFROHT together with other Civil Society Organizations i.e. Natural Justice Kenya, African Institute for Energy Governance, and the Center for Strategic Litigation instituted a public interest case in the East African Court of Justice over the EACOP.
The applicants are concerned about the environmental degradation, violation of livelihood rights, climate change, defilement of the Lake Victoria basin and the failure of the respondents to prevail over providers to provide clear mitigation plans and commitment to accountability and rule of law.
The applicants pray for protection of the right to livelihood of the thousands of people to be evicted in the process , protection of food security in communities; ecosystems and water.  Since 2018, community members have been stopped without any compensation from using their land for perennial crops like coffee yet this is a major source of livelihood for communities along the pipeline.
The respondents raised Preliminary objections challenging the legality of the case. These were heard and court finished on the 5th of April 2023. Parties are waiting for the ruling and any time the main case will be scheduled for hearing.
To this end, CEFROHT with support from Open Society Justice Initiative in conjunction with other applicants will conduct a moot court session for the East African Court of Justice EACOP CASE in preparation for the hearing.
Specific objectives of the activity are:
To develop a strategy on how the hearing shall be held on the side of the applicants of the case.
To develop a strategy on how to counter the Respondent's case and the evidential burden on the Applicants
Expected Outputs
A developed and harmonized strategy for the argument of the Applicants case.
A developed strategy of on how to counter the evidential burden that is on the Applicants.